May 23, 2018
Del Mar, CA… Don Diego Scholarship Foundation is elated to announce that it has awarded a record $72,500 in college scholarships to 30 exceptional students who reside throughout the San Diego area and have participated in the San Diego County Fair and/or other activities associated with the Del Mar Fairgrounds.
The students are dazzling in their diversity of talents and united by their desire to make the world a better place. They will be feted at Don Diego's Dinner and Kansas Concert Gala at the Fair on June 7, 2018 (tickets are still available) before heading to prestigious UC and Cal State campuses; highly regarded universities in Idaho, Kansas, Colorado, Wyoming, Hawaii and elsewhere; and even legendary Notre Dame.
Executive Director Chana Mannen, who has overseen the scholarship process since the Foundation's inception in 1986, reports, "This year's crop is amazing. We received the most applications ever. Our selection committee had the challenging task of evaluating qualifications and interviewing finalists; all outstanding and deserving. The cream of the crop rose to the top and we are proud to present our Class of 2018."
Scholarships at multiple levels were awarded in the categories of 4-H, FFA, Employee, Exhibitor/Participant, Vocational Education and Junior Livestock Auction participant.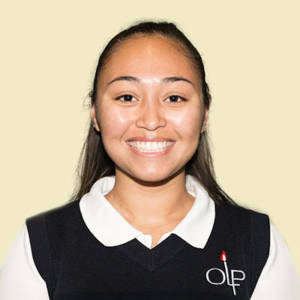 The coveted $5,000 Spanjian Family Scholarship was bestowed upon the most outstanding recipient: Angelina ("Gigi") Manasan, who also received the top $5,000 Exhibitor/Participant scholarship. Gigi, who lives in San Diego and graduates from the Academy of Our Lady of Peace, will use her $10,000 award to attend Creighton University in Nebraska, where she will major in Mathematics.
Don Diego Chairman Roxana Foxx notes, "Gigi's eclectic array of academic, extracurricular, work and volunteer achievements makes one ponder […]