The 22nd District Agricultural Association (22nd DAA), which operates the Del Mar Fairgrounds and produces the annual San Diego County Fair, and Don Diego Scholarship Foundation (DDSF), which awards college scholarships to deserving regional students associated with Del Mar Fairgrounds activities, including the Fair, have signed a Memorandum of Understanding (MOU) to continue a successful relationship that began over three decades ago.
The initial two-year term will be automatically extended for three years, and renewed thereafter, upon agreement between both parties.
After being unanimously approved by the Boards of the 22nd DAA and DDSF, the MOU was signed on March 17th by the 22nd DAA Chief Executive Officer Carlene Moore and DDSF Executive Director Ashley Colburn McCaughan.
The MOU formalizes a mutually beneficial association begun in 1986 when the 22nd DAA Board voted to honor the memory of deceased Tom Hernandez, who served as the Fair's ambassador, Don Diego, by creating a college scholarship program in his name.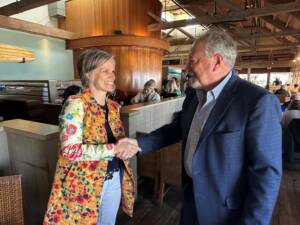 The DDSF Chairman, Stephen Shewmaker, who previously served on the 22nd DAA Board, states, "The DDSF is delighted to continue our longstanding, positive and productive relationship with the 22nd with a goal to support youth and education programs, such as the popular Plant*Grow*Eat program for young students as well as annual college and trade school scholarships to deserving students in San Diego County."
22nd DAA CEO Moore notes, "Both entities worked assiduously toward the agreement for two years; striving to establish a formal understanding of how the Fairgrounds and Foundation interact to promote the interests of both. We look forward to a continuing fruitful partnership, which includes on-site activities such as the DDSF Gala held each summer during the San Diego County Fair."
The 22nd District Agricultural Association, a State of California institution, consists of a nine-member Board of Directors that governs operations of the Del Mar Fairgrounds, including the San Diego County Fair. Each member is appointed by the Governor and serves a four-year term. More information.
The Don Diego Scholarship Foundation was named for Don Diego, AKA Tom Hernandez, who served as the Fair's welcoming goodwill ambassador from 1947-1984. Since its inception in 1986, the Foundation has awarded $1,276,844 in scholarships to 362 students and in agriculture education grants. More information is at www.dondiegoscholarship.org and https://www.facebook.com/DonDiegoScholarship/.