October 1, 2019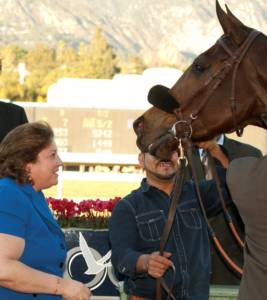 Owner Samantha Siegel, left, talks to Vision in Gold in the winner's circle after their victory in the Grade II, $150,000 Santa Maria Stakes, Saturday, February 12, 2011 at Santa Anita Park, Arcadia CA.
© BENOIT PHOTO
Del Mar, CA …Thoroughbred horseracing owners, breeders, trainers and aficionados will want to enjoy an afternoon celebrating this "sport of kings" by honoring two esteemed "queens" of the sport.
SoCal owners/breeders Marsha Naify and Samantha Siegel will be feted at Don Diego Scholarship Foundation's "A DAY AT THE RACES … CELEBRATING WOMEN IN HORSERACING" on November 23, 2019 at the Del Mar Racetrack.
Tickets for what promises to be the signature event of the Del Mar Thoroughbred Club (DMTC) Fall Racemeet are $200 if purchased before or on November 15; $250 thereafter. Tickets and sponsorship opportunities are available at www.dondiegoscholarship.org.
The event takes place in the famed, penthouse-level Il Palio restaurant. Guests will enjoy preferred parking, gourmet buffet and convenient sixth-floor wagering. They also will have an opportunity to meet and mingle with horseracing celebrities; foremost among them, the two honorees, who will be celebrated in the Winner's Circle after they crown the winner of the race named in their honor.
"A DAY AT THE RACES … CELEBRATING WOMEN IN HORSERACING" is the brainchild of Don Diego Board Chairman Roxana Foxx; herself a racehorse owner and an accomplished equestrian. Foxx notes, "Over the years, numerous men, including owners, breeders, trainers and jockeys, have justly been honored for their achievements. We thought the time was right to pay tribute to two of the many stellar women who have propelled this sport forward. Both Marsha and Samantha are Southern California residents who come […]