Don Diego Scholarship Foundation's July 1, 2023 Dinner and Concert Gala at the San Diego County Fair attracted a packed house. Guests enjoyed a high-top view overlooking the Fairgrounds at the famed Turf Club; an over-the-top reception, dinner and live auction of unique items, including a private flight on "The Yellow Peril" Lockwood Aircam; with the evening culminating in VIP stagefront seating under the stars at the Corona Grandstand for a concert by the iconic band, Alabama.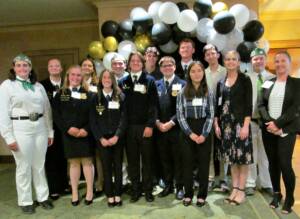 Among other auction items were highly sought-after luxury trips such as a one-week Croatian cruise and a two-night stay in Tulum, Mexico, as well as a "trip" to Del Mar Thoroughbred Turf Club, with membership for two for the entire 2023 race season.
The actual stars of the event were Don Diego's 21 "Class of 2023" honorees sharing $62,000 in scholarships. Preparing to advance to prestigious colleges around the country and close to home to pursue their passions, the future leaders were presented on stage one by one by a beaming Don Diego Chairman Stephen Shewmaker.
Each student spoke from the heart as they eloquently thanked donors and articulated where they were headed, their intended career, and how they arrived as this point.
Luke Anderson related, "I got into 4-H as a very young boy because I loved animals and agriculture. It was through 4-H that I discovered robotics, which set me on a path to major in the fast-growing field of cyber security at the University of Idaho."
Animal activist and top 2023 recipient Taite Tephabock revealed that she plans to use her three Don Diego scholarships totaling a whopping $13,000 to earn a Master's degree in Zoology and work to save endangered species.
After quipping that she is not a high school senior, a resilient Denisa Petricko, in her third decade of life, movingly told applauding Gala-goers, "Thank you for giving me a second opportunity to pursue my first passion: nursing."
Students and donors confirmed that it was exciting to meet each other face to face. Schenk Family Endowment recipient Nicole Guerrero said she greatly enjoyed conversing with Board member Frederick Schenk and his wife Shari. She reflected the sentiments of all Scholars as she said, "Being able to personally express my gratitude means so much to me and my family."
As he wrapped up the presentation, emcee Shewmaker related, "We are proud of our accomplishments in rewarding and incentivizing ambitious students for 37 years. It would not have been possible without ongoing, generous donor support. We're excited to keep the momentum moving forward. I promise you: we're not going to stop!"
The Don Diego Scholarship Foundation was named for Don Diego, AKA Tom Hernandez, who served as the Fair's welcoming goodwill ambassador from 1947-1984. Since its inception in 1986, the Foundation has awarded $1,338,844 in scholarships to 383 students and in agriculture education grants. More information is at www.dondiegoscholarship.org and https://www.facebook.com/DonDiegoScholarship/.