Dear Don Diego Scholarship Board,
Firstly, I would like to thank you for your generosity in changing the lives of many college students, including myself. In my last update, I was starting my Spring semester of 2022 with a total of 18 units (13 units are considered full-time). I went on to get straight A's and maintain my 4.0 GPA. Time management and mental strength were my greatest allies in achieving this. During this semester, I tutored in a city that was quite far from where I lived. It was a 30-minute Uber ride, a 1-hour bike ride, or a 45-minute bus ride (I varied my mode of transport depending on the week). This tutoring field placement at a high school was a part of my education class with the goal of obtaining my teaching credential. I would listen to my online statistics lecture, take the stats quiz, and work on homework assignments during my commute. Every moment of my day had to be maximized to the fullest. In the afternoons, I spent time with friends running, watching shows, or having study sessions. Of course, on the weekends, I had fun activities like visiting San Francisco or being with friends, as well as homework and study time.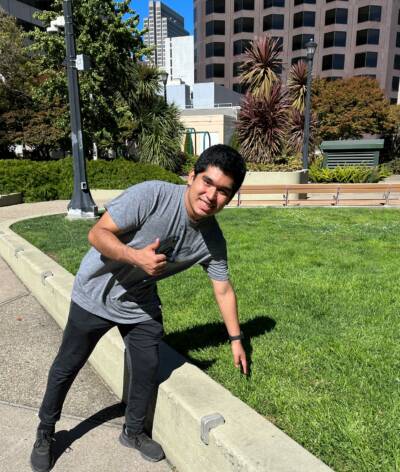 During finals and RRR week, I accomplished work that I still wonder how I managed to do. RRR week is a week in which there are no classes, and you study for your finals the following week. One day, my friend and I went on a 50-mile bike ride to San Francisco. The following day, I wrote a 25-page research paper for my education class. The day after, I wrote a 12-page essay for my anthropology class. Then, the following week, I spent studying for my math and statistics classes. During this time, I felt extremely tired. I blamed this feeling on my lack of sleep or spending 8-12 hours each day studying or writing these papers. After finishing the semester, I found out that I had Covid-19. It is crazy to think that I was able to bike 50 miles, write dozens of pages, and study all while my body was in pain. Fortunately, I was not in contact with many people, and those that I did have contact with did not get Covid-19. In the end, I got a 4.0 and an A+ in my math class.
I took two Summer classes for 8 units over 8 weeks. Traditionally, you teach a regular class in 16 weeks, so by doing summer classes, you must learn to do work twice as fast. I took a math and data science class. I really wanted to explore this popular major known as Data Science, which is a mixture of math, statistics, coding, sampling, and analytical thinking. I had no prior knowledge of coding, and this was something quite difficult for me. If you look up "Best Data Science programs for undergraduates" online, you'll see that UC Berkeley is ranked #1 in the nation. I know that the program is good, but on the other side of the coin, a good program also means difficulty and greater competition. I spent that summer trying to make sense of coding, using the programming language known as Python. On top of taking two technical classes, I was hired at the Student Learning Center (SLC) to be a math and stats tutor. I believe that one has not mastered a subject unless one can teach it to others in a well-mannered way. Not only was I able to help many students in their academics, but I was also able to improve my own understanding of the subject. After this difficult and fast-paced summer session, I came out with a 4.0 GPA.
After completing summer classes, I had a week to myself in which I applied to be an Academic Intern for a data science course at my school. This class, which has around 2000 students during the semester, is highly competitive to get a position. Time passed, and I discovered I had been selected for the academic internship. In this position, I was able to attend the data science course to assist the Undergraduate Student Instructor (UGSI) and help students in the class. This was a commitment on top of taking 17 units this semester. However, this semester was unlike any other I had experienced. When I took 18 units, I only had two technical classes: one math class and a statistics class. In my opinion, these technical STEM classes are much harder than other classes. This semester, I took two math classes, two coding classes, two supplemental courses to help with coding, and my education class, for which I still had to commute to tutor at a local middle school. I had a total of 31 hours of class/lecture time per week and about 20-40 hours of homework and studying per week.
One of the most difficult weeks was when one math teacher assigned 117 math problems, with many questions having multiple parts (it took 20 hours to complete), another math teacher assigned 40 problems (5 hours), two coding homework (12 hours), and my education class assigned 70 pages of reading and reflection (4 hours). Going through all of this in one week was exhausting. I still hung out with friends and went on runs (although I did fewer runs than I would have liked). In preparation for finals week, my RRR week was one of the weeks in which my spirit and mind were tested to the utmost limit. I would sleep at 2 am, wake up at 6 am, go on a hike with a friend, eat breakfast, and study for the remainder of the day. I was living on just 4 hours of sleep for two weeks because the time I was awake was spent mastering four technical classes. Each day was about 10-16 hours of studying. I would read through two entire math textbooks just to read some trivial definitions that I knew the math professors would love to test on. I took many practice exams for the classes. Fortunately, this time I wasn't sick, but it was my toughest academic challenge to date. Going through these two weeks of studying and testing was hard. However, I am glad to report that I received a 4.0 GPA.
I would also like to talk a bit more about the social club I helped create. This semester, I had the role of club Treasurer (previously vice president) because I wanted to focus on money management and generating funds. Last summer, we held an art competition with our 750+ members and paid the art winners. This payment allowed us to use their artwork to create our club merchandise. The club heads handled this art competition, and the treasury department was responsible for finding a company to manufacture our merch (posters, pins, buttons, and tote bags), generating funds to afford all of this, and preparing for how to sell our merch at a convention hosted at UC Berkeley. Under my leadership, the club was able to generate around $4,000, with a profit of $3,000. It is worth noting that we did not have any money, to begin with. Seeing how our club started with just a few people, who I can say are some of my closest friends, and how it has expanded beyond my wildest dreams has been amazing. Despite the challenges, I had fun. So, once again, thank you, Don Diego, for allowing me to go through university with less financial stress. I hope to show you did not make a mistake in helping me out through the hard work I put in academics and life in general. I wish to repay this kindness someday by helping others just like this scholarship helped me.