Guests attending Don Diego Scholarship Foundation's exclusive July 1, 2023 Dinner and Concert Gala at the San Diego County Fair will have the best seats in the house, twice: first for the dinner and presentation at the famed Turf Club at the Del Mar Fairgrounds, then for VIP stagefront seating at the Corona Grandstand to enjoy what will most likely be a sold-out concert by the iconic band, Alabama.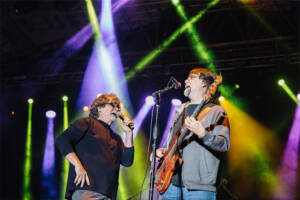 Tickets are available at dondiegoscholarship.org. Individual prices are $275 for the dinner and concert; $200 for solely the dinner. Sponsorships are available. The deadline to purchase tickets is June 23, 2023; earlier, if all limited availability seats are sold. Organizers suggest people purchase tickets early to guarantee their spot.
With a theme of "Southern Delights: a little bit of country, a whole lot of fun!" that resonates with the 2023 Fair's "Get Out There!" theme, the Gala will showcase delectable Southern cuisine. Country western attire is suggested.
The evening's highlight will be the presentation and celebration of this year's 21 winning student recipients, who are sharing $62,000 in well-deserved college scholarships.
Don Diego Chairman Stephen Shewmaker says the annual Gala has become a beloved event and social feature of the San Diego summer. "It's a who's who of San Diego's finest," he believes, explaining, "A major draw is the opportunity to meet and mingle with today's leaders while meeting future leaders: our Class of 2023 Scholars. The students relish being able to personally thank our generous donors, including the many Named Scholarship sponsors, who are helping to make their college and career dreams a reality."
The Don Diego Scholarship Foundation was named for Don Diego, AKA Tom Hernandez, who served as the Fair's welcoming goodwill ambassador from 1947-1984. Since its inception in 1986, the Foundation has awarded $1,338,844 in scholarships to 383 students and in agriculture education grants. More information is at www.dondiegoscholarship.org and https://www.facebook.com/DonDiegoScholarship/.