4/26/17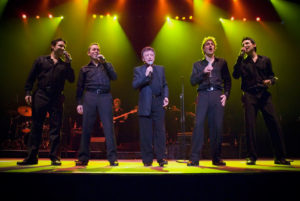 Del Mar, CA …
Don Diego Scholarship Foundation's June 22, 2017 Gala and Concert at the San Diego County Fair will feature the best seats in the house for the highly-sought-after performance of Frankie Valli and the Four Seasons.
Tickets are available at dondiegoscholarship.org. Included is all-day VIP Preferred Parking so event-goers can come early and enjoy the "Where the West is Fun" 2017 Fair before the Gala kicks off at 4:30 pm. People are encouraged to reserve their Gala seats early as the event often sells out in advance. Individual tickets are $250 on or before June 7th; $275 on or after June 8th.
New this year, Gala festivities take place in an exclusive Infield Pavilion setting offering a fun, western-themed ambience. Guests, encouraged to don western-style duds, will mingle with a Who's Who of San Diego society. They will enjoy hosted cocktails while feasting on an amazing array of grazing and grilling station small plates followed by champagne-and-cobbler dessert, presentation of Class of 2017 scholarship recipients, and live auction. The evening culminates with VIP Stagefront seating in the Heineken Grandstand to enjoy "Oh What a Night" and other popular classics sung by the iconic artist and his group.
There is much to celebrate in this, Don Diego's 31st year. The Foundation is awarding an unprecedented $65,000 in college scholarships to 27 outstanding students from around the county. In 2016, 12 students shared a total of $40,500 in scholarships.
Chair Jon Liss states, "We particularly want to thank the Zable Foundation for sponsoring the 2017 FFA Scholarships and the Rancho Santa Fe Foundation for underwriting the 2017 Exhibitor/Participant Scholarships."
He reports, "As we enter our fourth decade of building a better San Diego, one scholarship at a time, we are on the move. Thanks to donors' generosity, in addition to our expanding college scholarship program, busloads of Plant*Grow*Eat students from low-income schools will learn about agriculture and nutrition while relishing a day at the Fair. We look forward to greeting longtime supporters and new friends at this special Gala evening under the Del Mar stars."
The Don Diego Scholarship Foundation was named for Don Diego, AKA Tom Hernandez, who served as the Fair's welcoming goodwill ambassador from 1947-1984. To date since its inception in 1986, the Foundation has awarded approximately $797,000 in scholarships to 177 students and in agriculture education grants. Information on Don Diego's history and the Foundation's current programs and donation opportunities is at dondiegoscholarship.org and facebook.com/DonDiegoScholarship.