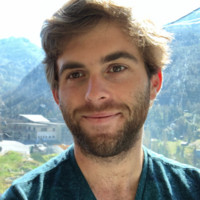 Today, on his website, multitalented Kevin Brice describes himself as an "early morning surfer, concept designer, back-country snowboarder, solutions architect, alpha prototyper, scrum master, concert producer, drone videographer, wireless engineer, kaizen instigator."
In 2010, when Kevin captured Don Diego's $5,000 Employee scholarship, we described him as "a force to be reckoned with, whether teaching blind people how to surf, transforming his family home into a Halloween haunted house, winning robotics competitions, mentoring middle-schoolers in a comedy improv program, or chasing runaway steers in his livestock job at the Fairgrounds, where he also works in the Production Department."
In the intervening 12 years, Kevin earned a B.S. in Industrial Engineering at Cal Poly SLO, where he was heavily involved in academic, work and charitable pursuits, then held high-impact positions while charting his own entrepreneurial path.
He notes, "I was owner and iOS app developer for Brice Works. I created a DJ company, a drone hobby business, and raised $25,000 for charity creating holiday light shows. When COVID hit, I founded a nonprofit making more than 30,000 PPE items for the healthcare community."
Among this active, altruistic, Encinitas resident's current hobbies are snowboarding, 3D printing, stock and cryptocurrency trading, and surfing. Workwise, he reports, "I am a Solution Architect for accesso, a theme park/large venue product and solutions company. We work with major best-of-breed clients such as IKON Pass, Carnival Cruises and Legoland building technical solutions for their guest-facing components and operations."
Looking back, Kevin says the Don Diego award, along with other scholarships, "empowered me to become enveloped as a freshman in RFID labs, soccer, rock climbing and cycling. I am very grateful to the Fair and Don Diego for showing me how much they cared about me as an employee and my future."
As we presciently noted in 2010, Kevin Brice has always been a force to be reckoned with: a force for creativity, a force for enlightenment, and a force for good!
Kevin's website: kevinjbrice.com