July 11, 2018
Del Mar, CA… Your best bet for a winning season at the Del Mar Thoroughbred Club horse races starts with a Don Diego Amigo Club membership.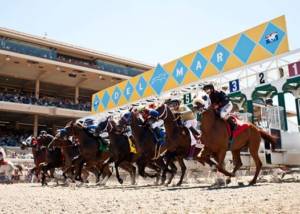 For just $99 ($150 for two memberships), the Amigo Club provides free admission to every day of the summer (opening day: July 18th) and fall racemeets, every day of the 2019 San Diego County Fair plus four single-day passes to Surfside Raceplace and one single admission to The Scream Zone and Pelly's Miniature Golf.
This $500 retail value membership offers one full year of Del Mar Fairgrounds fun, with activation beginning on your day of purchase at dondiegoscholarship.org.
The world-famous Del Mar track www.dmtc.com has showcased iconic horses such as Zenyatta and California Chrome. On certain racedays, it rocks out as a destination venue for free concerts and other entertainment attractions included with admission.
Visitors entering the gates can discover the Don Diego Fountain sporting hundreds of Legacy Bricks commemorating winning bets at the track, memorable moments at the Fair, and fun family times at the Fairgrounds. These customized bricks can be purchased on the Don Diego website for $150.
Both Amigo Club and Legacy Brick proceeds benefit the Foundation's ongoing educational programs. Since its inception in 1986, the Foundation has awarded nearly one million dollars in college scholarships and agriculture education grants.