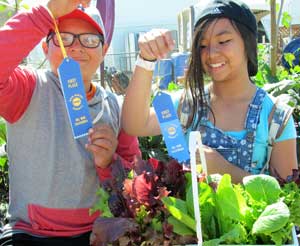 6/20/16
Del Mar, CA …   Thirty minutes before the San Diego County Fair opened at 10 am on July 17, 2016, hundreds of elementary school students descended from buses, accompanied by teachers and parents. Laden with lovingly tended lettuces, radishes, beets and other edibles grown from seed, they entered the Fairgrounds through a special gate and marched merrily to the infield where enthusiastic judges awaited.
Not every entry captured a coveted first-place, but each child happily received a ribbon for participating in the Fair's Plant*Grow*Eat program that teaches children about the connection between agriculture and nutrition. After planting their tiny seeds, watering and weeding their plants, plucking out pesky bugs and watching their garden grow, even kindergarteners now understand where their food comes from.
After the judging, the exuberant young growers got to taste the fruits (and veggies) of their labors. Then, they were off to explore the Fair's agriculture areas and to see and touch farm animals as they enjoyed a glimpse of the ocean; for some, their very first.
The Don Diego Scholarship Foundation, thanks to the generosity of donors, sponsored 73 buses that enabled students from low-income schools to participate in the 2016 Plant*Grow*Eat program. The experience was enjoyed equally by the children, their teachers and parents, judges and the bus sponsors who greeted the kids and accompanied them to the judging area.
On this day, several busloads of students were from Nye Elementary. Taraysa and Tre Morrow, parents of 10-year-old Tremier, related, "Our son became so excited at this first growing experience that he and his grandmother are now planting a garden with onions, tomatoes and other crops." Activity Leader Jade Lungmire said, "This is the first time Nye participated, and we want to make it a school tradition. The children educate each other on growing your own food. They're educating us adults, too."
Judge Hortensia Trejo confided, "I've been a judge since the program began. Today's task was particularly challenging. Almost every plant I examined was marvelous. A few of the radishes were as big as a tomato! I make sure to say something encouraging to every young gardener. Being around their smiling faces makes my day."
Asked to reveal the secret of their first-place lettuce medley, Arturo and Emily smiled and said, "Extra water. When our plants looked dry, we gave them a little more."
If you'd like to "give a little more" to a program that celebrates the rich agricultural history of our region and keeps it flourishing for future generations, please visit dondiegoscholarship.org. Plant*Grow*Eat donations are welcomed year-round.
The Don Diego Scholarship Foundation was named for Don Diego, AKA Tom Hernandez, who served as the Fair's welcoming goodwill ambassador from 1947-1984.
Since its inception in 1986, the Foundation has awarded approximately $797,000 in scholarships to 177 students and in agriculture education grants. Information on Don Diego's history and the Foundation's current programs and donation opportunities is at dondiegoscholarship.org and www.facebook.com/DonDiegoScholarship.