Vista is always well-represented when Del Mar-based Don Diego Scholarship Foundation awards its annual college scholarships to high-achieving students from around the San Diego area. This year was no exception. Among the 19 recipients sharing $74,500 in 2021 scholarships are Vistans Edwin Vargas Navarro and Leila Perko. Both outstanding young adults embody the spirit, as a Vista High educator said of Edwin, "that challenging life circumstances do not preclude excellence and success."
Edwin won the pinnacle award: a one-time $20,000 Liss Family Scholarship, funded by Don Diego Board member/Chair Emeritus Jon Liss, covering four years of college. Edwin was the top recipient in the FFA category and also received a $1,000 Junior Livestock Auction scholarship for a total of $21,000, which he will use to major in Mathematics at his "dream school, the University of California Berkeley."
Edwin's FFA and Junior Livestock Auction success at the San Diego County Fair began in ninth grade with a Grand Champion award for his rabbits and a blue ribbon for his turkey. This ardent FFA leader says, "My experience at the Fair has always been phenomenal."
Phenomenal is a word that aptly describes Edwin, who attained a 4.5 GPA at Vista High while excelling in Cross Country, earning a Track & Field Scholar-Athlete award, serving as president of the California Scholarship Federation and an active member of the Key Club and Only Losers Litter Club, participating in AFJROTC – all while serving as Club President of Vista FFA and fulfilling his ambitious goal of running a 50-mile ultramarathon. He had hoped to complete a 100-miler, he confides, but due to an injury he could do "only 50."
Edwin is the second in his family to win a Don Diego scholarship. An older sister, Yessica Vargas Valentin, won the top $10,000 scholarship in 2016, graduated from Cal State San Marcos in an accelerated three years, swiftly earned a bilingual elementary teaching credential, then attained a sought-after position as a dual-immersion teacher in the Vista Unified School District she attended. An older brother, Cipriano Vargas, is President of the VUSD Board of Trustees. Edwin says, "I am deeply appreciative of my immigrant parents' sacrifices raising nine children, and want to show that the long hours my father worked in the strawberry fields were not in vain."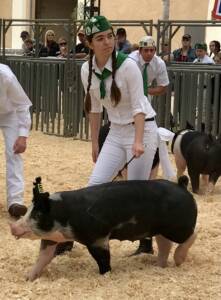 Leila Perko received a Don Diego 4-H award of $1,500, which she will use to major in Animal Science at Cal Poly San Luis Obispo. Her ultimate goal: "to earn a Doctorate in Veterinary Medicine with a specialty in surgery."
Much of Leila's empathy for all species of animals, including humankind, emanates from surmounting obstacles with indominable positivity, perseverance and enthusiasm. She confides, "I was born with various medical challenges and spent many years in bed until I eventually had to be homeschooled. Each time I met with a doctor or specialist, I gained curiosity toward biology and other sciences. Since I was mostly homebound, I had time to rescue chickens and other animals and began to have a reason larger than myself to force me out of bed and into the outdoors."
Leila found her purpose and passion in 4-H, which she describes as "an organization that helped me learn and develop skills from animal husbandry and record keeping to public speaking." Her extensive study of selective breeding and genetics led to breeding show-quality bantam birds and developing a genetic theory for which she hopes to receive a grant to research in college.
Leila's life revolves around animals. Her much-heralded volunteer activities include serving as a vet assistant and intern. She is also an entrepreneur, operating Lulu's Farm & Trade, where she raises and processes Heritage Turkeys, helps families select flocks, conducts well-visits and sells farm-fresh eggs. She takes joy in living for today and preparing for tomorrow, declaring, "I have so many plans for the future. Adversity has inspired me to develop tools that I look forward to sharing with the world."
Don Diego Chair Juanita Hayes states, "In the midst of this challenging year for college-bound high school seniors, Edwin, Leila and our entire Class of 2021 demonstrated amazing grit and determination. In addition to academic excellence, extracurricular achievements, and a great deal of time devoted to community service, not to mention paid employment, these idealistic and ambitious young adults are proof that the future of our community and our country looks very bright."
The Don Diego Scholarship Foundation was named for Don Diego, AKA Tom Hernandez, who served as the Fair's welcoming goodwill ambassador from 1947-1984. Since its inception in 1986, the Foundation has awarded $1,191,000 in scholarships to 298 students and in agriculture education grants. More information is at dondiegoscholarship.org and facebook.com/DonDiegoScholarship.