6/3/17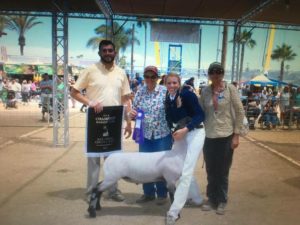 Del Mar, CA …
The 26 exceptional 2017 Don Diego Scholarship Foundation recipients come from north, south, east and west around San Diego County and they are headed to educational institutions across the country. Some will attend agriculture-centric universities such as Cal Poly SLO, UC Davis and Oklahoma State. Others will matriculate at prestigious schools like Stanford, Wellesley and MIT. Some are remaining close to their California roots at SoCal colleges. All 26 are undeniably going places, propelled by an unprecedented $63,500 in Don Diego scholarships.
Chair Jon Liss reports, "Our selection committee faced a challenging process. Offering college scholarships ranging from $1,000 to $10,000, we received dozens of applications from outstanding students. After finalists underwent rigorous interviews, the winners emerged. We invite people to meet our impressive Class of 2017 at our June 22, 2017 Gala & Frankie Valli Concert at the Fair."
Scholarships were open to students countywide who participated in the San Diego County Fair and/or other activities associated with the Del Mar Fairgrounds. Awards were in the categories of 4-H, FFA (funded by the Zable Foundation), Exhibitor/Participant (funded by the Rancho Santa Fe Foundation) and Employee. In addition, two Vocational/Technical (Voc/Tech) and ten Junior Livestock Auction (JLA) scholarships rounded out the program.
The top recipient is Sarah Drown of Ramona, who received a $5,000 FFA award plus the coveted $5,000 Spanjian Family Scholarship honoring the "father" of the Foundation, Bob Spanjian. Liss describes Sarah as "emblematic of the past, present and future of our region's rich agricultural traditions." Her family is steeped in the industry and she will pursue a double major in Agriculture Communications and Agriculture Business at Oklahoma State University. "I want to give myself several options," Sarah has wisely decided, "with future steps perhaps in ag journalism or law school. I am so excited to win not just one but two Don Diego scholarships. When I told my mother, she cried." Sarah graduates eighth in her Ramona High School class of 358 with a 4.3 GPA. Along with strong recommendations of educators, participation on the tennis team and scholastic equestrian league plus an amazing record of accomplishments in FFA, in which she has been involved since a young age and held leadership positions. Sarah reveals, "My involvement enabled me to raise and sell multiple market projects, including various breeds of sheep and goats, to help fund my college education. The Don Diego scholarship will be a huge benefit to me and my family."
Kathleen (Kalee) Cummings of San Marcos, who graduates from Escondido Charter High School with a 4.0 GPA, received the $5,000 4-H scholarship. She intends to major in Business at Claremont McKenna College. An organized leader and avid learner with a passion for involvement and a robust work ethic, Kalee has amassed a broad array of activities and accomplishments, from student government, journalism and yearbook to varsity golf, swimming and volleyball to food drives and tutoring to working as a Carlsbad lifeguard and a clothing representative. Kalee's 4-H service is exemplary; she currently is a State Ambassador leading 4-H to a global stage. Kalee has come a long way from what she confides is "starting at 4-H at age eight when I thought I was just learning to train my dog."
UC Davis is the lucky university chosen by Engineering major Mary Moreno-Christian of Carlsbad, recipient of the $5,000 Employee scholarship. Mary earned a 4.2 GPA at Carlsbad High School, where she was on an all-girls robotics team, played viola in the orchestra and bass in the jazz band and won a coach's award in the academic league. She worked for two years as a Camp Del Mar counselor during the Del Mar Thoroughbred Club's racemeets, where she said, "I became a more effective and independent leader and refined my abilities working with children." This self-motivated young woman originally took the job to fund her SAT prep class, but her supervisor, Gonzalo Fernandez, said she did far more than merely earn a paycheck: "She is honest, punctual, dependable and incredibly hard working; inspired by challenges, not intimidated by them." Her high school counselor, Robin Howard, says, "Mary hopes to increase the number of women and Latinas in the STEM field."
Jessica Xu of San Diego, who graduates as a National Merit Scholarship finalist, National Honor Society President and first in her Maranatha Christian Schools class with a 4.4 GPA, will attend MIT, where she will major in Biomedical Engineering. Jessica impresses everyone with whom she interacts, including scientists at The Scripps Research Institute where she served as a research intern. Her high school advisor, Joe Mireles, praises Jessica as "the most accomplished, capable and motivated student I have ever worked with," lauding "her art and science projects that she uses to benefit the world." As San Diego Youth Space Program project manager, Jessica led 20 students from seven high schools to design and build experimental modules sent to the International Space Station. Her award-winning Student Showcase Fair entries in mixed media, fine art, photography and newspaper qualified her for the Don Diego scholarship and her eclectic abilities won the respect of the selection committee. Confiding that she used her challenge of scoliosis as "an opportunity to grow stronger," Jessica has learned, "A positive attitude can make a seemingly insurmountable mountain into a conquerable hill."
Montana State University will welcome Kyle James Murray of Fallbrook, who received Don Diego's $5,000 JLA scholarship. Graduating with a 4.0 GPA, a wide range of interests, abilities and achievements – notably in 4-H but also in such diverse pursuits as lacrosse, aviation and welding – this young man who is described by his recommenders as a logical, clear-headed problem-solver with high integrity and reliability will major in Chemical Engineering. Kyle's JLA accomplishments are legendary; he has won several Showmanship awards for chickens and turkeys and a number of Blue Ribbons in the Meat Pen Poultry category. In 2016, he won the Reserve Grand Champion and 4-H Champion awards. Recalling the moment he took his poultry across the auction block, Kyle says, "Experiencing the enthusiastic support of the community is something I will remember for a long time."
The remaining 2017 Don Diego Scholarship Foundation recipients are as follows:
$2,500 Scholarships
Mariel Cota, Voc Tech, Coronado; Kathryn Flinn, JLA, Ramona; Hannah Gill, 4-H, Ramona; Katherine Golden, FFA, Escondido; Andrew Holemo, Voc/Tech, Fallbrook; Sophia Kazmierowicz, Exhibitor/Participant, Encinitas; Mia Rice, Employee, San Diego.
$1,500 Scholarships
Samantha Brandenburg, 4-H, Encinitas; Chandler Hall, FFA, Valley Center; Grace Martineau, JLA, Valley Center; Jessica Zou, Exhibitor/Participant, San Diego.
$1,000 Scholarships
Sierra Branson, JLA, Santa Ysabel; Sage Drohan, JLA, Escondido; Audrey Greenwood, JLA, Fallbrook; Blake Jackson, JLA, Santa Ysabel; Alisa Marks, 4-H, Escondido; Monsera Martinez, JLA, Vista; Katlyn McClellan, JLA, Ramona; Anne Signore, El Cajon; Valorie Wolf, JLA, Vista; Marissa Wu, Exhibitor/Participant, San Diego.
Liss states, "Speaking on behalf of the entire Don Diego Board, we congratulate these incredible young women and men. They have demonstrated a strong drive to excel. We are delighted to provide a supportive vehicle for their success and eagerly look forward to their future attainments in college and career."a supportive vehicle for their success and eagerly look forward to their future attainments in college and career."
The Don Diego Scholarship Foundation was named for Don Diego, AKA Tom Hernandez, who served as the Fair's welcoming goodwill ambassador from 1947-1984. To date since its inception in 1986, the Foundation has awarded approximately $797,000 in scholarships to 177 students and in agriculture education grants. Information on Don Diego's history and the Foundation's current programs and donation opportunities is at dondiegoscholarship.org and facebook.com/DonDiegoScholarship.