Angelina Manasan's academic and community service accomplishments, accolades, and life achievements to date could fill a book, and perhaps someday they will. Faced with daunting health conditions beginning as an infant, Angelina has consistently turned obstacles into opportunities to soar while helping others with her trademark winning smile, resilient spirit and energetic positivity.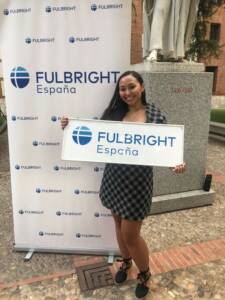 When Angelina unanimously won Don Diego's top $5,000 Exhibitor/ Participant Scholarship plus the $5,000 Spanjian Family Scholarship in 2018, the Board lauded her as "selfless and awe-inspiring." She in turn confides, "My motivation to achieve and succeed comes from my mom. She risked her own life to make sure I had one to live and I don't plan on missing out. What's the point of saving my life if I'm not going to live it? That's exactly what I plan to do!" Praise emanates from Rady Children's Hospital, where she volunteered for 17 years; eloquently sharing her story and actively fundraising to further Rady's mission of helping ill children. One Rady executive noted, "Angelina is proof that one passionate person can make a difference in thousands of lives." Turning passion into action is Angelina's specialty and the gift she brings to others and the universe. From social justice to the arts to Girls Who Code, Angelina represents the highest caliber of service- leader: one who leads with humility. She is a nurturing mentor, which resulted in her current position.
After graduating in Spring 2022 from Creighton University with a double major in Spanish/Hispanic Studies and Theology, and triple minor in Women's and Gender Studies, Justice and Peace Studies, and Sociology, this Dean's List standout was chosen by prestigious Fulbright Association to serve from August 2022 – June 2023 as an English Teaching Assistant in Galicia, an autonomous community of Spain.
One of a select group of applicants accepted for this highly competitive destination, Angelina says, "It is absolutely amazing here. I am so appreciative of the opportunity to learn the language and to be immersed in the culture. I am eternally grateful for the opportunity Don Diego provided. It allowed me to attend my top choice university, which led me to my path as a Fulbright recipient."