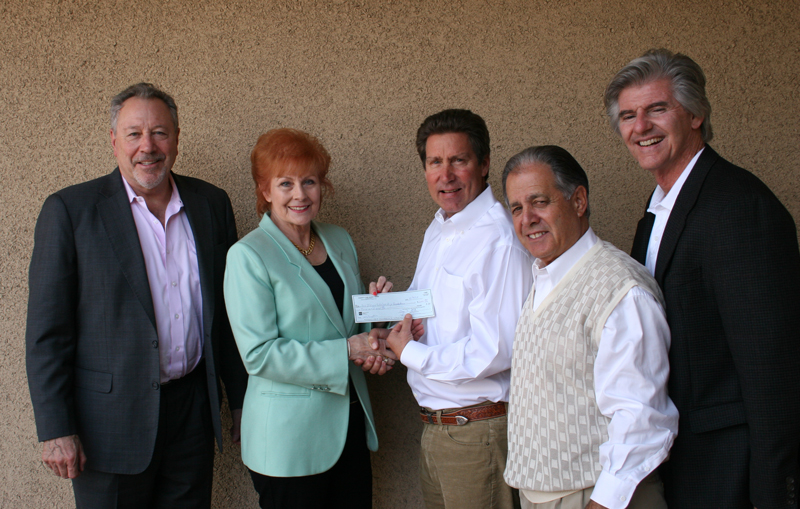 Del Mar, CA …      Susan Farrior of Rancho Santa Fe surprised her fellow Don Diego Scholarship Foundation Board members at a March 3, 2014 meeting by presenting a check for $6,000 in support of Don Diego's Mission to provide college scholarships to outstanding San Diego County high school seniors who have participated in Del Mar Fairgrounds events, as well as grants for agricultural education.
Farrior donated the $6,000 on behalf of the Charity Fair Horse Show, an annual event that takes place during the San Diego County Fair. The Show is a benefit for Don Diego and Helen Woodward. Farrior is a Horse Show board member; more information on the organization and the 2014 event is at www.charityfairhorseshow.com.
Don Diego Chair Paul Ecke III states, "We recently increased our college scholarship funding by nearly 100%. For many years, we gave four $5,000 scholarships, for a total of $20,000. In 2014, three scholarships – $5,000, $2,500 and $1,000 – will be awarded in four categories: 4-H, FFA, Fair Employee and Fair Exhibitor. One of the four $5,000 recipients, deemed most outstanding by the judging committee, will also receive the $5,000 Spanjian Family Scholarship, for a total $10,000 award. Thanks to the commitment of people such as Susan Farrior and generosity of organizations such as the Charity Fair Horse Show, this year one dozen very deserving students will receive a total of $39,000 to pursue their college and career goals."
The deadline for 2014 applications is April 1, 2014. Applications are on the website.
The Don Diego Scholarship Foundation was named for Don Diego, AKA Tom Hernandez, who served as the Fair's welcoming goodwill ambassador from 1947-1984. The Foundation has awarded more than $600,000 in college scholarships and grants for agricultural education since 1986. Annual scholarships support students who are ambassadors for the county, academically and through their achievements. Grants also are provided to sponsor low-income students' participation in the Fair's Plant*Grow*Eat program that teaches in a hands-on way about nutrition and agriculture. Funds are raised through an annual gala, Legacy Brick program, Amigo Club and donations. For more information, visit dondiegoscholarship.org and follow Don Diego at http://facebook.com/DonDiegoScholarship.