JUNE 2020 SCHOLAR SPOTLIGHT
Don Diego Helped Propel Future Pediatrician Sofia Davis on her Successful Academic Journey
As a standout 2016 graduate at competitive Torrey Pines High, Sofia was already steeped in her aspiring healthcare career, having spent her high school years interning in Palomar Hospital's ICU. Recalling, "It was one of the most educational and amazing experiences of my life," Sofia now supervises a cadre of ICU interns and is on her way to becoming a primary care pediatrician.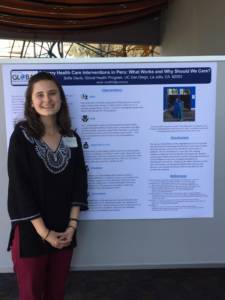 Supported by a $5,000 Don Diego scholarship, for which she qualified by working at ice cream stands at the San Diego County Fair, Sofia graduated (early!) with a B.A. in Global Health from UCSD in December 2019 with an abundance of honors, including Cum Laude, Phi Beta Kappa and Caledonian Honor Society.
She is currently enrolled in an accelerated Master of Public Health program at Cal State San Marcos, and plans to apply to medical schools at prestigious California universities. Whichever one she chooses will be fortunate to acquire this skilled, focused and empathetic professional.
Sofia says, "I'm so grateful to Don Diego for helping to get my academic journey off to a good start."