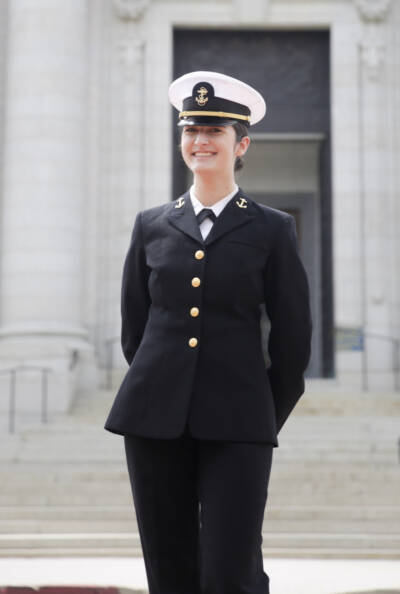 When Sasha Jouldjian won 2020's top $5,000 Don Diego Employee scholarship plus the coveted $5,000 Spanjian (proudly noting their shared Armenian heritage), her honors teacher at Coronado High, where she graduated with a 4.0, praised her as "a shining star" who surmounted life challenges to sparkle as an achiever and leader in wide-ranging pursuits; from academics and chess to softball and social justice.
Sasha has continued to glow and make her community, her country, and the world a better place.
A perennial Dean's List student at Boston College, she will graduate in 2024 with a degree in International Studies; concentration in Ethics and Social Justice, and minor in Religion and American Public Life. Sasha recently joined the Naval Reserve Officers Training Corps, stating, "My plan is to commission into the U.S. Navy upon my graduation. I am very excited to start my career as a Navy officer! ROTC has provided marvelous life and leadership experiences and amazing friendships. Attending the Naval Academy Foreign Affairs Conference was an incredible opportunity."
Eagerly seizing opportunities is a Sasha specialty. She has studied abroad in Copenhagen ("a cherished life experience!") and traveled to other universities as co-VP of Boston College's Mock Trial team ("we won a 1st and a 3rd place!") while serving as a campus dorm R.A. and working at an art museum. She enthuses, "I absolutely love my life and all my amazing college experiences!"
Now mulling career options, this shining star says, "I'm excited to see where life takes me!" We are delighted to watch Sasha soar, knowing her path began at the San Diego County Fair, where she assisted with programs such as the Junior Livestock Auction.
Sasha believes, "None of my accomplishments would have been possible without Don Diego. I will be forever grateful!"