Among the outstanding San Diego-area recipients of $74,500 in 2021 Don Diego Scholarship Foundation college scholarships is Adelaide (Addy) Sorbo of Ramona. This exceptional 2021 Mountain Valley Academy graduate captured awards in two highly competitive categories: a $1,500 FFA scholarship and a $1,000 Zable Foundation Junior Livestock Auction scholarship.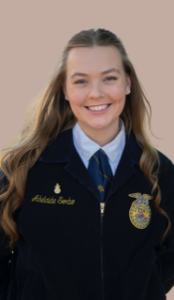 Addy use the $2,500 at Texas A&M, where she will major in Biomedical Engineering with an Equine minor. She says, "I intend to to earn a doctorate in Physical Therapy. Another huge long-term goal is to run a horse ranch where veterans can work and ride for free."
In addition to scholarships, ambitious Addy says, "I have saved $25,000 through my college savings, livestock selling and paid employment. I also plan on getting a job in college to help pay off student loans and tuition."
Addy is a young Renaissance woman who shines in many areas. While earning close to a 4.0 in high school, she captained the girls' basketball team, served as ASB secretary, Yearbook editor and National Honor Society president. She is the sound engineer at her local church, a steering committee member of the Ramona Junior Fair, and provides fundraising support at Rady Children's Hospital. The latter role is close to her heart; as a young child, she faced health difficulties and dealt successfully with the accompanying emotional challenges.
Addy confides, "I was born with amblyopia, which is an eye-brain condition. I was diagnosed legally blind in one eye when I was five." The vision treatments caused chronic migraines and precluded participation in ball sports and other group activities.
Ever resilient, Addy says, "There were times early on when this was hard and I remember feeling sad. All that changed when my parents started me in horse-riding lessons. I grew confident as a rider and blossomed … competed in English and Western shows and often won first or placed. Having a challenge early on has helped me see that out of hard things, great opportunities can arise."
As cheerfully persevering as she is philosophical, Addy found a happy home initially in 4-H and then in FFA; showing at the San Diego County Fair starting at 11 years old; actively participating in local and state activities; earning her Greenhand, Chapter and State FFA degrees; and attaining numerous leadership positions. She says, "I was selected as 2019 Star Chapter Farmer and 2021 San Diego Section Star Farmer." Her unstinting efforts have reaped results not only in terms of accolades but life lessons: "I have learned that anything is achievable with hard work and determination."
Addy is the younger sister of Don Diego's top 2019 recipient, Russell, who is thriving at Cal Poly San Luis Obispo, supported by his $10,000 scholarship. She received high praise from another past Don Diego Scholar: Ramona High Agriculture Teacher and FFA Advisor Mary Martineau. Martineau won the 1999 FFA $5,000 scholarship, which supported her education at Texas A&M; Addy's university of choice.
Lauding Addy's "hard work and dedication to herself and her projects," Martineau assures Don Diego Scholarship Foundation that "Adelaide Sorbo will represent the organization with honor. I know she will excel in all of her future endeavors."
The Don Diego Scholarship Foundation was named for Don Diego, AKA Tom Hernandez, who served as the Fair's welcoming goodwill ambassador from 1947-1984. Since its inception in 1986, the Foundation has awarded $1,191,000 in scholarships to 298 students and in agriculture education grants. More information is at dondiegoscholarship.org and facebook.com/DonDiegoScholarship.