March 12, 2018
Dear Friend,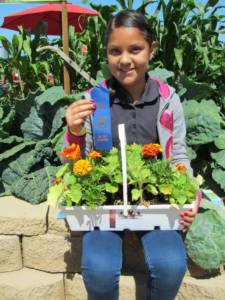 What is bigger – a fat, red radish lovingly tended from a tiny seedling that is now as large as a tomato – or the bright eyes of the young gardener accepting a ribbon for growing this delicious masterpiece of nature?
Don Diego Scholarship Foundation's (DDSF) partnership with the San Diego County Fair's Plant*Grow*Eat agriculture education program transports Title One elementary school students to an enriching day at the Fair showcasing their lovingly-grown edibles, petting farm animals, and planting the seeds for a life-long love of agriculture and healthy nutrition.
On designated days during the Fair, classrooms of students come laden with radishes, nasturtiums and other edibles that they have grown to be judged. Not every child's entry will capture first place, but they all receive a participation ribbon, eat their veggies, and then have the opportunity to explore the agriculture areas as they enjoy a glimpse of the ocean; for some, their first time.
Last year, the DDSF sponsored 65 buses that enabled over 3,400 students, teachers and chaperones from low-income Title I schools that do not have the funds to provide field trips for their students due to fiscal restraints and lack of parent associations to participate in Plant*Grow*Eat. Our goal this year is to expand the program and be able to provide 100 buses to the local Title One schools.
We need your help in raising money to keep these students coming. You can sponsor an entire bus for $350 or a partial bus in any amount you can give. Or, maybe you are part of a group (e.g., book club, or bridge or walking group, etc.) that you want chip in together to sponsor all or part of a bus. It's a wonderful way to give back to the community and impact the lives of these children. Our bus sponsors receive publicity, bus signage, an opportunity to meet and accompany the sponsored students to the judging area, and, if you wish, you can even serve as a judge.
THE BUS STARTS HERE … with your support! Make a difference in a child's life by returning your tax- deductible donation in the enclosed envelope with a check or credit card information or donate online. Please contact me at knahum@sdfair.com or 858-792-4210 if you have any questions.
Thank you.
Kathy Nahum