NOVEMBER 2021 SCHOLAR SPOTLIGHT
Meet Ryan Berardelli, Chairman of the (e)Boards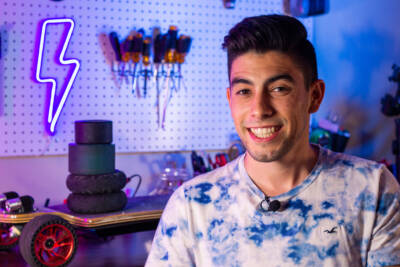 When Ryan Berardelli won Don Diego's top $5,000 Exhibitor/Participant scholarship in 2016, we lauded this "Renaissance man with a wealth of intellectualism, drive, and real-world experiences, from robotics to lapidary." Even in high school, this academically gifted, intrinsically motivated Eagle Scout was a successful entrepreneur with his own photography business and an array of interests.
Today, having graduated Magna Cum Laude from California Baptist University in 2020 with a B.S. in Mechanical Engineering and vocalist/crew member in CBU's University Choir and Orchestra, Ryan is fulfilling his early promise and Don Diego's faith in him.
He confides, "Being involved in the evolution of technology is one of my major passions. Through that, I create custom electric longboards and enjoy all kinds of mechanical design. I'm always tinkering with electronics; my workbench is brimming with projects in progress. I also love photography and cinematography. Music is another creative escape; whether it be singing or playing guitar."
A newlywed who lives in San Diego and works full-time as an engineer for a defense contractor, Ryan also serves as a brand affiliate for XBoard, contractor for Revel Boards, and host of his own YouTube channel, RB E-motion, which attracts hundreds of viewers for tutorials such as how to DIY an electric skateboard battery.
When it comes to championing the economic and environmental viability of electric-powered vehicles, Ryan puts his money where his mouth is; rather, where his feet are. He reports, "I've built electric boards for several friends as well as myself. Lately I've been riding the nearly 10 miles to work in under 30 minutes, around once a week, for extra fun."
Ryan says, "The Don Diego scholarship was a huge help financially and a confirmation of the hard work I'd put into my Fair entries for several years."
We are delighted to sing the praises of this self-propelled young adult who is as innovative and forward-thinking as the e-boards he builds, purveys, and rides.