June 26, 2018
Del Mar, CA… Thirty minutes before the gates to the San Diego County Fair open to the public on Plant*Grow*Eat (PGE) days, busloads of fresh produce-laden elementary students hop eagerly onto the infield Farm where enthusiastic volunteers judge their lovingly grown-from-seed lettuce, tomatoes, radishes, nasturtiums, beets and other edibles. Not every young farmer wins first place, but everyone receives a ribbon, warm accolades for their achievement and a hearty smile from the judges before they set off to pet animals, learn more about agriculture and nutrition from the ground up and, for some children, enjoy their first glimpse of the ocean.
Waiting to greet students on June 22, 2018 were people from organizations who sponsored buses from San Diego area Title I schools through Don Diego Scholarship Foundation's PGE Bus Transportation Program. The program funds buses for schools that could otherwise not afford to transport students to the Fair. Some sponsors, such as Teresa Palzkill, Immediate Past President of Les Dames de Escoffier, served as judges. Others were on-site to enjoy the fruits of their donations as seen in the eyes of happy children proud of their crops.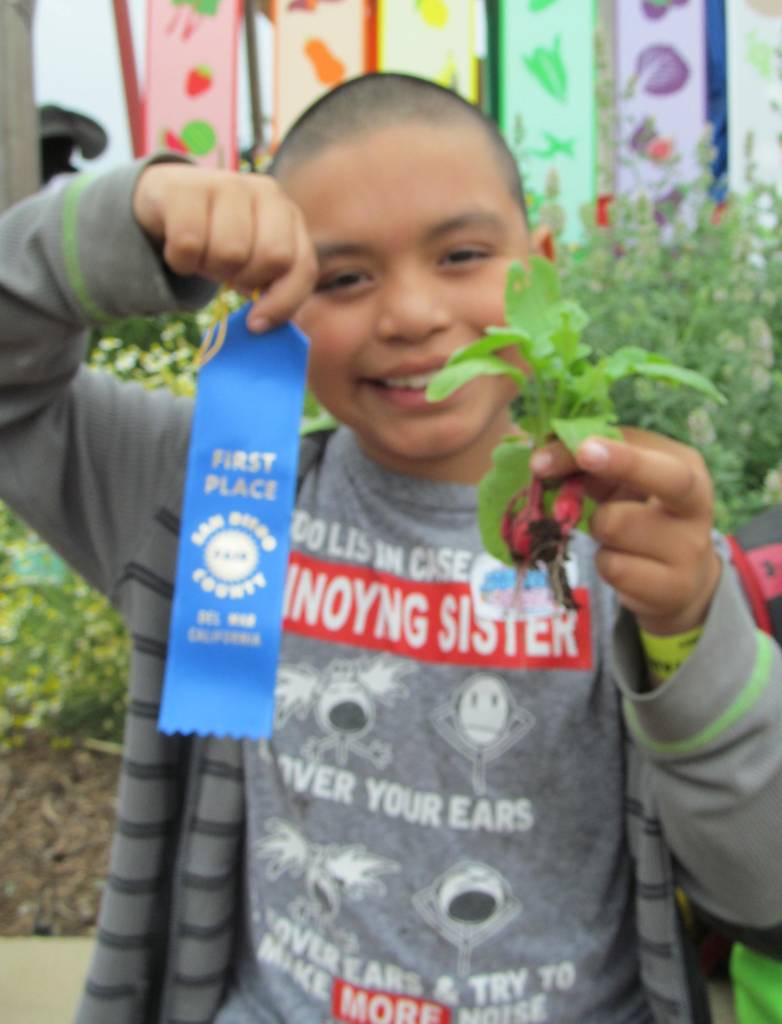 Ira Sharp, Grants Committee Chairman of the Del Mar Foundation, which has donated to the program for two consecutive years, said, "It's such a kick to see the kids' faces light up, even if their plant never grew beyond a little stem. Some of these children have never been honored before. Here, the judges take the time to talk to them and praise them. I love checking out their veggies and seeing the pure joy."
The Del Mar Kiwanis contingent of Steve Gardella, Relda Colvin and Chuck Phillips were as enthusiastic as the Perkins Elementary students they befriended at the Farm. Gardella explained, "Kiwanis focuses on helping kids around the world. We are thrilled to sponsor buses that bring children to the Fair here in Del Mar and love watching the children glow as they display their produce. It's emotional for me to be able to enhance children's lives with this program. I can't think of a better way to spend a morning!"
Longtime Don Diego Scholarship Foundation donor SDG&E was represented by Community Relations Manager Morgan Justice-Black, here for her second PGE year, and Public Affairs Manager Addie Woodard, who said she was having a ball during her inaugural visit. As they sat down to chat with young farmers, they said, "We couldn't wait to come here today and see our money in action. Our donation is very well-spent. It's so cool to know that children are learning where their food comes from."
The kids have learned not only where their food comes from, but also how to grow it. First-graders Ty, Alexander and Sergio outlined the winning formula: "First, you put good soil in a pot. Then you make a hole and put in a seed. Don't forget to water it so your radish will grow!"
Special education student Kevin, 13, could not stop smiling when he won a blue ribbon. Showing his PGE savvy, Kevin reported, "I planted this. I grew this. And now, I will eat it!"
Second-grader Romeo shared a secret: "I don't like radishes when we get them from the store. But when I eat the one I grew, it tastes good!"
Tierra's mom, Cherrelle, confided, "I participated in Plant*Grow*Eat when I was a student. I'll never forget how fun it was. It's exciting to see my daughter enjoy it now."
That excitement is echoed by 2018 Don Diego scholarship recipient Autumn Kleinrath, whose first Fair experience led to her passion for exhibiting, making her eligible for the $2,500 scholarship now propelling her to the University of California Santa Barbara. Autumn relates, "My kindergarten teacher brought our class to display our radishes. Mine wasn't very big, but I was excited to win a ribbon. I'll always remember that day!"
Don Diego Executive Director Chana Mannen believes, "For all students on this year's 79 donor-sponsored buses, PGE is a memorable growth opportunity. Whether their radish grew to be as large as a small tomato or their tomato never grew larger than a radish, we are confident their experience will reap a rich harvest in their life ahead."
Don Diego welcomes Plant*Grow*Eat donations at any time. To help provide an edible education to students from Title I schools, visit dondiegoscholarship.org, email info@dondiegosf.org or call 858-792-4210.
The Don Diego Scholarship Foundation was named for Don Diego, AKA Tom Hernandez, who served as the Fair's welcoming goodwill ambassador from 1947-1984. To date since its inception in 1986, the Foundation has awarded $938,500 in scholarships to 234 students and in agriculture education grants. More information is at dondiegoscholarship.org and facebook.com/DonDiegoScholarship.