JULY 2021 SCHOLAR SPOTLIGHT
Horsing Around is Serious Fun for Eventer Olivia Loiacono-Putrino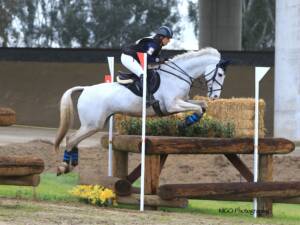 Olivia Loiacono-Putrino was a promising young equestrian when she won Don Diego's 4-H scholarship in 2006. She has fulfilled that promise, and so much more.
As owner of San Marcos-based OKL Eventing, Olivia trains three-day eventing participants, competes at a high level herself, and works toward qualifying for the Olympics in this challenging endurance and precision sport that combines dressage, cross-country jumping, and show jumping.
A seasoned, successful rider who has traveled around the country and the world, Olivia discovered her passion as a three- year-old in Bonsall when she jumped on her first horse, Teddy Bear. She achieved a coveted Pony Club A-rating at 17 and now gives back by growing the local eventing community. Among the up-and-coming stars she has coached is 2019 Don Diego scholarship recipient Sissy Sugarman. Photo courtesy of MGO Photography.
"Adventure's in my blood," Olivia chuckles, relating how she and her husband, Joe, a talented base jumper, spent their honeymoon. "I did a tandem jump off 3,000-foot Mt. Brento in Italy. I was terrified."
It's hard to imagine Olivia terrified of any challenge. She faces life with zest; eager to coach others to excellence, and attain her ultimate goal of making the Olympics and then, of course, winning!
Olivia credits the $5,000 scholarship for propelling her to Cal Poly San Luis Obispo, where she studied Agriculture Business, then seized an opportunity to continue her education as an equestrian.
"It all started for me in Bonsall; on a horse; in 4-H; raising and showing swine at the Fair. I learned showmanship and other skills that have translated into the life skills I have used to get me where I am."
And, where we hope she is headed: See you at the Games, Olivia!