JULY 2020 SCHOLAR SPOTLIGHT
2016 Don Diego Recipient Carney Flinn's Career as a Research Physician Will Benefit Humanity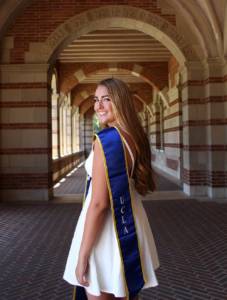 When COVID-19 struck our country and the world earlier this year, 2016 Don Diego Scholar Carney Flinn was prepared to respond.
"Growing up in Ramona and being heavily involved in 4-H, I had observed various deformities in animals, which engendered my early interest in genetics," Carney relates. "After joining a genetics counseling interest group in college, I chose this as my field of interest."
Medicine runs deep in the Flinn family. Carney's mother and father are both in the healthcare field.
Carney used her $5,000 Don Diego scholarship at UCLA, where she graduated in June 2020 with a B.S. in Microbiology Immunology and Molecular Genetics. She will pursue her M.D. at Virginia Tech Carilion School of Medicine in Roanoke, Virginia. The research-oriented school is currently conducting pandemic patient care studies, giving Carney an opportunity to contribute to the fight against COVID-19.
"Roanoke reminds me of Ramona, and hiking venues abound," says this indomitable young adult who conquered her fear of heights and now is poised to soar.
"I am very grateful to the Don Diego Scholarship Foundation!"