In 2017, Grace Santibanez (née Martineau), a lifelong Valley Center resident whose family has deep agricultural roots, won a Don Diego Junior Livestock Auction scholarship in
the first year Don Diego began administering JLA scholarships.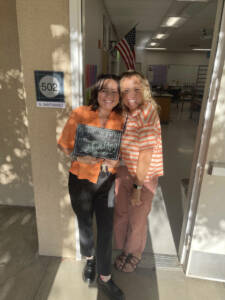 The award was one of several Grace applied for and received. Her mantra then and now: "Just apply!" Grace has always applied herself, in academics and other pursuits, to great success.
Today, this perennial San Diego County Fair showmanship winner, 4-H/FFA leader, and three-sport athlete has come full circle. In this journey, which took her only a few miles geographically but
a monumental distance life-wise, Grace gained wisdom she now shares with the next generation.
"It's been a whirlwind few years," Grace relates. "I commuted to Cal State San Marcos, where I earned a B.A. in May 2021 followed by a Middle Level Teaching Credential in May 2022. In June, I married
my high school sweetheart, Collin Santibanez, who serves as a Firefighter/Paramedic for Sycuan Fire Department. This fall, I was fortunate to become a science teacher at Valley Center Middle School, where my mother, Kristi, teaches. In fact, our classrooms are right next door!"
Grace also coaches field hockey at Valley Center High, and continues to reside, now with her husband, in Valley Center, where she feels grounded.
"4-H and FFA instilled in me responsibility, a core value I pass along to my players and students. I loved being part of these programs, the Fair, and the Don Diego community. My brother Eli won a 2019 Don Diego scholarship and is now a senior at Humboldt State. My sister Angela is a high school junior who raises and shows swine. I hope she pursues opportunities to advance her own journey,"
Grace's advice to Angela and anyone who wants to succeed: "Go for it. Just apply!"