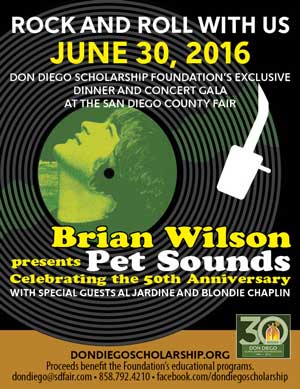 5/28/16
Del Mar, CA …    The Don Diego Scholarship Foundation is delighted to present its annual Dinner and Concert Gala on June 30, 2016 at the San Diego County Fair benefiting the Foundation's educational programs.
Festivities begin at 4:30 pm. Offering an opportunity to mingle with a Who's Who of San Diego society, the Gala begins with cocktails and award-winning Toast of the Coast wine sampling. After a gourmet dinner, presentation of Class of 2016 scholarship recipients and unique auction, the exclusive event culminates with champagne and the best seats in the Heineken Grandstand house for a landmark world tour performance: "Brian Wilson presents 'Pet Sounds: Celebrating the 50th Anniversary' with special guests Al Jardine and Blondie Chaplin."
Tickets are available at dondiegoscholarship.org/gala-2016 or 858-792-4210. The cost through June 15, 2016 is $225/ticket; after that, $250/ticket. Tickets include all-day VIP Preferred Parking so guests can come early and enjoy the 2016 "Mad About the Fair" madcap fun and fried delights. People are advised to save room for their delectable Gala dinner; entrée selections are Braised Short Ribs, Grilled King Salmon and Grilled Eggplant Involtini.
Don Diego Executive Director Chana Mannen encourages people to purchase tickets soon. She notes, "Our 2014 and 2015 Galas sold out. We anticipate another big crowd as we celebrate our Foundation's 30th anniversary and enjoy the beloved songs of Brian Wilson from his days with the Beach Boys and as a solo artist."
Mannen says the Gala always receives an enthusiastic response from both longtime and new event-goers. "Guests tell us how much they enjoy speaking with our articulate and appreciative students. They are impressed by the maturity, idealism, ambition and poise of these amazing young adults, who make a point of thanking donors for their support and sharing their college and career goals. Getting to know the recipients of their largesse makes a big difference to them, and to the students."
The Don Diego Scholarship Foundation was named for Don Diego, AKA Tom Hernandez, who served as the Fair's welcoming goodwill ambassador from 1947-1984.
Since its inception in 1986, the Foundation has awarded approximately $797,000 in scholarships to 177 students and in agriculture education grants. Information on Don Diego's history and the Foundation's current programs and donation opportunities is at dondiegoscholarship.org and www.facebook.com/DonDiegoScholarship.