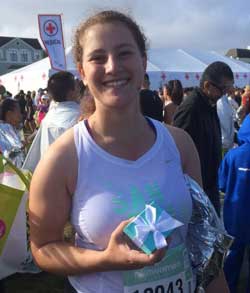 7/25/16
Del Mar, CA …    Gaining acceptance to one of the nation's most acclaimed universities, Stanford, is a major accomplishment. To excel in this highly competitive Palo Alto, California university environment, a student must possess not only intellect but also drive. To maintain a stellar GPA while successfully participating in diverse extracurricular activities, the Stanford student must be an exceptional scholar.
Don Diego Scholarship Foundation's top $10,000 scholarship recipient of 2014, Carolyn Kravitz, has all these attributes and more. Don Diego Chair Jon Liss states, "We knew there was something extraordinary about Carolyn when we selected her to receive the highest award two years ago. As Valedictorian of her Mountain Empire High School in Julian, she graduated first in her class with a 4.28 GPA. Her achievements at Stanford have not surprised, but truly delighted us. Carolyn validates our faith in her abilities and ambitions."
Tackling a challenging Molecular Biology/Genetics major with the aplomb she applies to her graceful horsemanship, during her sophomore year Carolyn completed her first half marathon, rode for Stanford's winning equestrian team, learned to ski and snowboard, completed her EMT training, and was selected to work in a summertime campus biology research lab. This fall, she will participate in a study abroad program in Santiago, Chile.
Carolyn says, "My goal is to earn a PhD and become a researcher at the corner of animal genetics and disease. I'm so incredibly grateful to be at Stanford, which has provided me with amazing opportunities. It wouldn't be possible without Don Diego!"
Read more Don Diego success stories here.
The Don Diego Scholarship Foundation was named for Don Diego, AKA Tom Hernandez, who served as the Fair's welcoming goodwill ambassador from 1947-1984. Since its inception in 1986, the Foundation has awarded approximately $797,000 in scholarships to 177 students and in agriculture education grants. Information on Don Diego's history and the Foundation's current programs and donation opportunities is at dondiegoscholarship.org and www.facebook.com/DonDiegoScholarship.