January 22, 2018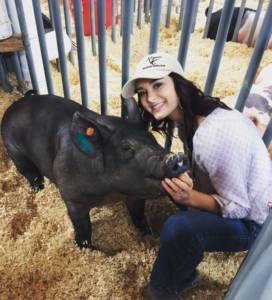 Del Mar, CA … Don Diego Scholarship Foundation will award a record $73,000 in college scholarships to 35 outstanding students who reside in the San Diego area and have participated in the San Diego County Fair and/or other activities associated with the Del Mar Fairgrounds.
Scholarships are offered in six categories. Individual awards range from $1,000 to $5,000. The deadline to apply is March 19, 2018. Eligibility details and applications are at dondiegoscholarship.org. For questions, contact cmannen@sdfair.com.
Finalist interviews will be held in May. Recipients will be honored at the exclusive Don Diego Gala during the 2018 San Diego County Fair. Each recipient also will receive a personalized Legacy Brick installed at the Fairgrounds.
SCHOLARSHIP BREAKDOWN
Scholarships of $5,000, $2,500, $1,500 and $1,000 will be awarded in each of four categories: 4-H, FFA, Employee and Exhibitor/Participant.
Four $2,500 and 13 $1,000 scholarships will be awarded to 4-H and FFA students who participate in the 2018 Fair's Junior Livestock Auction.
Two 2,500 Vocational Education scholarships will be awarded to students who wish to pursue an AA/AS degree or certificate at a community college or accredited trade school.
The coveted $5,000 Spanjian Family Scholarship will be bestowed upon the most outstanding 2018 recipient.
Don Diego Chair Jon Liss says that he and fellow Board members eagerly await dozens of applications from exceptional students throughout the region. Liss reports, "Our scholarship program has skyrocketed over the past few years! Prior to 2014, we awarded four $5,000 scholarships. Since then, we have steadily increased the number, categories, levels and total monetary amount of annual awards, enabling more future leaders to pursue their college and career goals. We have been able to accomplish this incredible expansion – from $20,000 in 2013 to $73,000 in 2018 – thanks to the extremely generous support of individuals and of organizations such as the Zable Foundation and Charity Fair Horse Show."
The Don Diego Scholarship Foundation was named for Don Diego, AKA Tom Hernandez, who served as the Fair's welcoming goodwill ambassador from 1947-1984.
To date since its inception in 1986, the Foundation has awarded approximately $862,000 in scholarships to 204 students and in agriculture education grants. More information is at dondiegoscholarship.org and facebook.com/DonDiegoScholarship.