6/17/13
Don Diego Gala Celebrates Scholarship Recipients and Raises Money to Help Outstanding Students "Fly Like an Eagle" and Give Back to Their Community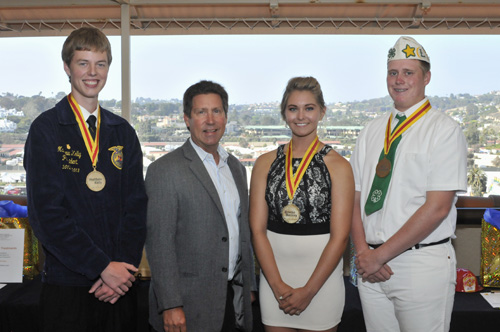 Del Mar, CA …      The June 15, 2013 Don Diego Scholarship Foundation's Steve Miller Band Dinner and Concert Gala at the San Diego County Fair brought together past, present and future in one festive evening that will benefit the future of education and our community.
Emceed by Don Diego Chair Paul Ecke III, the event offered a tribute to the "Father" of the Foundation, Bob Spanjian; a celebration of the Don Diego Class of 2013 scholars; and a rollicking fundraiser, proceeds of which will enable the Foundation to continue its mission. Since 1986, the Foundation has awarded more than $600,000 in college scholarships and grants for agricultural education.
Before settling into their VIP concert seats to rock out with the band, famous for such songs as "Fly Like an Eagle," some 200 people – including local luminaries – enjoyed cocktails, silent auction, gourmet dinner, and introduction of 2013 scholars Brooke Buckley, Matt Kelly and Scott Jacobson, each of whom received a $5,000 college scholarship. Unable to be at the event, Tessa Adler, bound for Yale, received $5,000 plus the first $5,000 Spanjian scholarship for a total award of $10,000.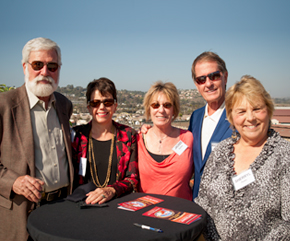 Among the guests were present and past members of the Del Mar City Council and boards of the 22nd District Agricultural Association, Don Diego, and Del Mar Thoroughbred Club (the Gala's platinum sponsor); Bob Spanjian's family, including granddaughter and San Diego NBC reporter Megan Tevrizian, who created a video in honor of her grandfather; and many other people well known throughout the region.
Del Mar Council member Sherryl Parks remarked, "We're having a great time! The Gala is a wonderful way to support agriculture and education. With the rising cost of college, it's marvelous that we can help these students."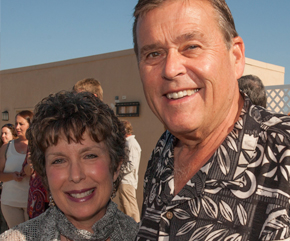 Jim Farley, President of Leichtag Foundation, a gold sponsor, said, "We contribute to Don Diego because we believe it's important to encourage young people to pursue careers in agriculture. It's our region's heritage and it's important to our economy."
22nd DAA President Adam Day introduced the evening's highlight by telling the crowd, "I am happy to be here honoring a leading light of this community. Bob Spanjian has done so much to help future leaders." An endowment Spanjian Family Scholarship was created this spring. More than $150,000 has already been raised in his name.
Spanjian is a Don Diego founder who has served as Secretary-Treasurer since the Foundation's establishment in 1986. The nonprofit Foundation is sponsored by the 22nd DAA, on whose board Spanjian served from 1988-1992. Decades ago, his family's fabric design business developed Fiber K, which came to be known in their honor as Spandex, one of the most ubiquitous materials in the world.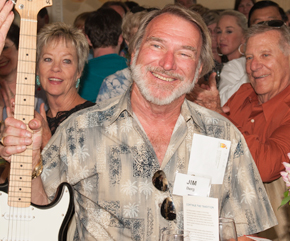 The dinner portion of the Gala ended with a lively auction led by 22nd DAA Vice President Fred Schenk. Jim Berg's $2,000 bid won him one of the night's most coveted items: an autographed, personally painted Steve Miller Band guitar. Proceeds from the auction and entire Gala will enable future students to "Fly Like an Eagle" to prestigious colleges and promising careers where they give back to their community.
Although the Gala is over, Ecke says Foundation efforts are ongoing and that people can contribute throughout the year in many ways. He notes, "The online auction http://www.biddingforgood.com/auction/AuctionHome.action?vhost=dondiegofund continues through the 4th of July. Our Plant*Grow*Eat bus program enables low-income students to learn about nutrition while growing their own veggies they showcase at the Fair. Our Amigo Club offers a year of Fairgrounds fun for just $99. Our new Legacy Brick program
www.thatsmybrick.com/dondiegoscholarship enables people to create a personalized brick that will be permanently enshrined at the Don Diego Legacy Fountain at the Del Mar Fairgrounds' Plaza de Mexico."
For more information, please visit dondiegoscholarship.org and follow Don Diego at http://www.facebook.com/#!/pages/Don-Diego-Scholarship-Foundation/140722662654337