6/15/16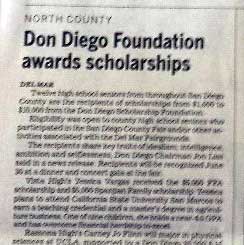 Twelve high school seniors from throughout San Diego County are the recipients of scholarships from $1,000 to $10,000 from the Don Diego Scholarship Foundation.
Eligibility was open to county high school seniors who participated in the San Diego County Fair and/or other activities associated with the Del Mar Fairgrounds.
The recipients share key traits of idealism, intelligence, ambition and selflessness, Don Diego Chairman Jon Liss said in a news release. Recipients will be recognized June 30 at a dinner and concert gala at the fair. . .
Read the rest of this story by Laura Groch on the San Diego Union-Tribune website