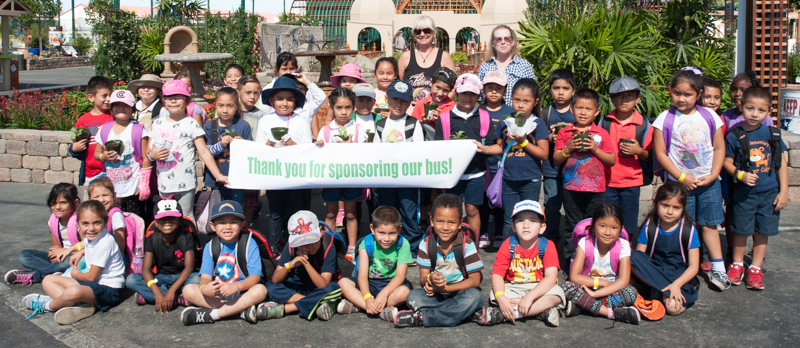 Don Diego Bus Sponsorship Gives Youngsters an Exciting Growth Experience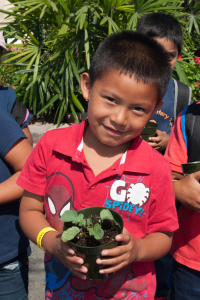 7/6/15
Del Mar, CA …      The 2015 San Diego County Fair has ended, but thousands of elementary school children will always remember the day they won a ribbon for growing their prize radish, arugula, nasturtium or other edible from seed through the Fair's Plant*Grow*Eat program. They also will not forget the fun they had exploring the agriculture areas as well as seeing and even touching farm animals.
In 2015, the Don Diego Scholarship Foundation's sponsorship of some 60 buses enabled students from low-income schools to participate in the program. "Without transportation, these children would not be able to have their plant judged and to experience the Fair," explains Don Diego Executive Director Chana Mannen, who says the Plant*Grow*Eat days are enjoyed equally by the children, their teachers, judges and the bus sponsors who greet the kids and accompany them to the judging area.
New bus sponsor Brenda Larson said she thoroughly enjoyed her excursion. "You have to be introduced to agriculture to understand it," she noted. "I think it's great for kids to know where their food comes from. Some students may even go into the field."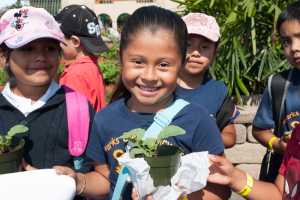 Returning sponsor Gail Brinkerhoff, a retired Del Mar teacher whose former students loved Plant*Grow*Eat, said she feels good about helping kids participate in what she calls "an important aspect of their education: agriculture and nutrition."
Rosa Parks Elementary School Transitional Kindergarten teacher Donna Telles accompanied her eager young growers to the judging area. "Most of these students live in apartments and do not have the experience of gardens," she related. "The program has taught them so much. Now when they have fruit at lunch, they pick out the seeds so we can plant them at school."
Longtime judges Ruby and Ivan Gordon love the enthusiasm shining in each child's face. They explained, "Everyone gets at least a participation ribbon. Whether they win first place for a perfect plant or we're judging dirt, the kids are happy to be here."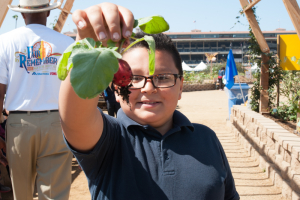 One student, Izzy, revealed the reason his prize-winning radish grew so large. Eyes twinkling, he whispered, "I put secret powder in the soil.
The Foundation welcomes bus sponsorship contributions year-round. You can learn more about the program and donate here. https://dondiegoscholarship.org/product/plantgroweat/
The Don Diego Scholarship Foundation was named for Don Diego, AKA Tom Hernandez, who served as the Fair's welcoming goodwill ambassador from 1947-1984. The Foundation has awarded more than $682,500 in college scholarships and grants for agricultural education since its inception in 1986. Information on programs and donation opportunities is at dondiegoscholarship.org and www.facebook.com/DonDiegoScholarship.