DECEMBER 2020 SCHOLAR SPOTLIGHT
Educator Mary Martineau Embodies the Spirit of Don Diego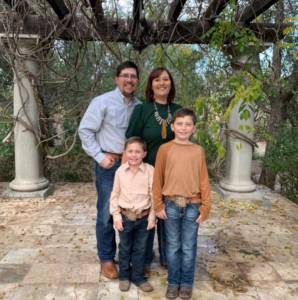 Teaching and agriculture are twin pillars in the life of Mary Masch Martineau, a highly regarded 12-year agriculture teacher/FFA advisor; initially at Poway and now at Ramona High. Mary grew up in Ramona, where she lives with her Julian High ag teacher/FFA advisor husband Curtis and their two sons.
"My relatives still run cattle in Ramona and Julian. My dad was a hay hauler; my mom taught Home Economics at Julian High, which I attended. Being involved in agriculture and education were bred into me," Mary chuckles.
"I raised animals in 4-H and FFA, and showed at the San Diego County and Ramona Fairs, where Curtis and I now serve on the board. When I received the Don Diego letter proclaiming I'd won the 1999 FFA scholarship, my mom and I cried. The $5,000 award supported my education at Texas A&M and validated my hard work." In Texas, she ambitiously earned two ag-related B.S. degrees, M.A. and teaching credential while working in key USDA roles.
Now, "back where my heart is," Mary has educated some 1,200 students while introducing her sons to breeding and raising goats, cattle and rabbits, including the "fine arts" of cleaning pens and castrating calves.
Over the years, many of Mary's students have earned their own Don Diego scholarships, proving you can remain close to your roots while helping others soar.