June 1, 2018
Del Mar, CA… It's time to get your bid on! Don Diego Scholarship Foundation's Online Auction of autographed guitars and other signed collectibles has opened at biddingforgood.com. Bidding closes at midnight on July 4, 2018.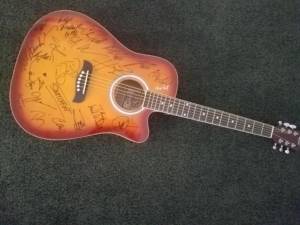 Among the iconic items offered are guitars autographed by the 2016 San Diego County Fair Grandstand performers and by popular groups and individuals. Each item offers a buy-it-now option.
Auction proceeds benefit the Foundation's educational programs, so when you win the bid of a guitar signed by a legendary musician, your donation is music to the ears of future leaders of our community. In 2018, 30 outstanding students throughout the San Diego area are sharing $72,500 in college scholarships to pursue their career goals.
The Don Diego Scholarship Foundation was named for Don Diego, AKA Tom Hernandez, who served as the Fair's welcoming goodwill ambassador from 1947-1984. To date since its inception in 1986, the Foundation has awarded approximately $862,000 in scholarships to 204 students and in agriculture education grants. More information is at dondiegoscholarship.org and facebook.com/DonDiegoScholarship.