October 19, 2017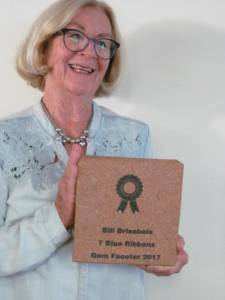 Del Mar, CA … Give that special someone a one-of-a-kind holiday gift as unique as the recipient: a personalized Brick permanently enshrined at the Del Mar Fairgrounds' Legacy Fountain.
Don Diego Legacy Bricks begin at $150. A replica can be purchased to embellish home or office. Information and online purchase are at dondiegoscholarship.org.
The hundreds of customized Legacy Bricks already lining the pathway to the Fountain celebrate people's lives and commemorate magical moments at the San Diego County Fair and Racetrack. Inscriptions run from the heartfelt to the humorous, together telling a story of cherished relationships and fun times with friends and family.
Don Diego Executive Director Chana Mannen states, "Making the gift even more meaningful, each Brick purchase is a donation that enables the Don Diego Scholarship Foundation to build a better San Diego, one scholarship at a time."
The Don Diego Scholarship Foundation was named for Don Diego, AKA Tom Hernandez, who served as the Fair's welcoming goodwill ambassador from 1947-1984.
Since its inception in 1986, the Foundation has awarded approximately $862,000 in scholarships to 204 students and in agriculture education grants. More information is at  dondiegoscholarship.org and facebook.com/DonDiegoScholarship.