Isai Soto pursues his college and career goals with the same enthusiasm and élan this academically gifted 2019 Fallbrook High graduate approached his JLA and FFA activities, including award-winning public speaking presentations, as well as diving accomplishments, community service, political engagement, and array of jobs, from exotic plant salesperson to goat herdsman.
Today, this first-gen college student is excelling at Columbia University in New York City; preparing to graduate with a B.A. in Anthropology in Spring 2023. But that's not all this multitalented multitasker has been doing.
Earlier this year, Isai was selected by his department as an ethnographic research fellow. He also operates a successful freelance graphic design business; creating logos, promotional materials and social media infographics, and additionally serves as the Journal of Art Criticism sales director.
Thought Leader. Action Taker. Change Maker.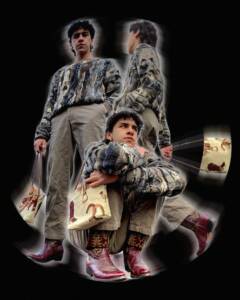 Fluent in Spanish and ASL, Isai has mastered the language of social media. Combining these skills with his passion for social justice as a digital intern for a nonprofit, his TikTok videos garnered more than one million views. Previously, while matriculating at Georgetown University, he participated in a homeless outreach program and inclusivity projects.
This fall, Isai took a big bite out of the big apple when he was chosen to be a graphic design intern at the famed Whitney Museum of American Art. He reports, "I'm currently working on graphics for our two new exhibitions: "Edward Hopper's New York" and the novel "no existe un mundo poshuracán: Puerto Rican Art in the Wake of Hurricane Maria." Being able to work on these amazing exhibitions has been an incredible experience!"
After graduation, Isai plans to participate in a year-long international fellowship abroad program before pursuing a PhD fellowship in California. He confides, "I have been investing in my printed works to create an archive of my life. It's easy to lose yourself in a big city, but no one can shake me from my Fallbrook roots. I've wrestled pigs before, so what metropolitan life has thrown at me is no issue."
Expressing gratitude to these roots, Isai states, "Don Diego Scholarship Foundation's support has been irreplaceable. The knowledge of having someone in my corner was motivation to continue pursuing better things. Donors should know their donations have a huge impact. I can't wait to interview a future Don Diego Scholar whom I sponsor!"