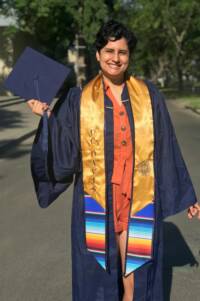 Hard-working, steadfast, academically gifted, and someone who puts her idealism into action, Mary Moreno Christian is emblematic of the type of student Don Diego has been delighted to support over the years. It is no wonder that this quietly indomitable Carlsbad standout won 2017's top $5,000 Employee award.
In her scholarship application, Mary revealed that her job at the racetrack's Camp Del Mar for kids propelled her from shy to self-confident. Her supervisor concurred, calling Mary "a truly valuable asset to my team … an impressive problem-solver who is inspired, not intimidated by challenges."
Mary built on that solid foundation at UC Davis. As she moved toward her 2021 B.A. in Sociology with a minor in Spanish, she worked as a camp counselor and performed other jobs while broadening her horizons by serving as a gender equity intern for UC Davis Women's Resource Center, and a student organizing intern for two labor unions.
Among her many accomplishments, Mary is a multi-instrument musician. She parlayed that talent playing viola and guitarrón in a campus mariachi band. Now back in her hometown, working at the Carlsbad Library, and pondering a career in Library Science, this self-starter is continuing her mariachi education at Southwestern College.
Mary confides, "Receiving the Don Diego and another scholarship helped me graduate from college with almost no debt. That took a lot of stress off me and my family."
In high school, Mary captained a high-octane, all-female robotics team, winning an award for being a great motivator. Her path through college and now career is anything but mechanical. Mary Moreno Christian is very much the creator of her own journey, enlivened by a dollop of merry mariachi music!