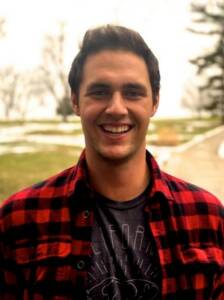 Even before graduating from high school and winning a 2016 Don Diego 4-H scholarship, Samuel "Bubba" Sugarman had earned his airplane and helicopter pilot licenses and a U.S. Congressional Gold Medal for Service honoring over 400 hours of community service work in agricultural education.
When accepting the award, Bubba said his passion for giving back began on his family's Sugar Sweet Farm in Olivenhain, where they raise rare and endangered livestock such as heritage turkeys and introduce visitors to the joys of farming and fun of goat yoga. He and his family, including younger sister Margaret "Sissy" Sugarman, who would win two Don Diego scholarships in 2019, regularly donated their harvested produce to an Encinitas food pantry.
Bubba's intrinsic combination of humanity and humility has earned the respect of many. He modestly explains his impetus, saying, "There's a sense of completion when you serve the community. It's been an amazing journey."
Bubba has flown forward on that journey, earning a BA in Business Administration at Principia College. As a freshman, the National 4-H Council awarded Bubba the 4-H Youth in Action Award for Agriculture. Principia commissioned Bubba to create a monumental steel sculpture, now on permanent display on campus.
After graduating with honors from Principia, Bubba mused, "If money were no object, I would spend my days in the sky, flying helicopters and exploring new places, and my nights designing and building furniture. I would spend my life experiencing and creating beautiful things."
Putting his business degree to work, Bubba has returned to Encinitas to manage and grow his family's farm. He initiated new programs to reach more children and added a farm store featuring goat milk products along with whimsical apparel and gifts. Continuing his service work, Bubba's latest project was designing and building a miniature replica of a Rancho Santa Fe church to serve as a Free Little Library for the community.
Bubba Sugarman epitomizes the high caliber of Scholar-Leaders Don Diego is delighted to support. Some might even call this Renaissance man one of the Greatest Of All Time: GOAT!