5/26/12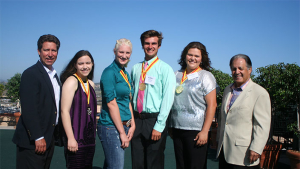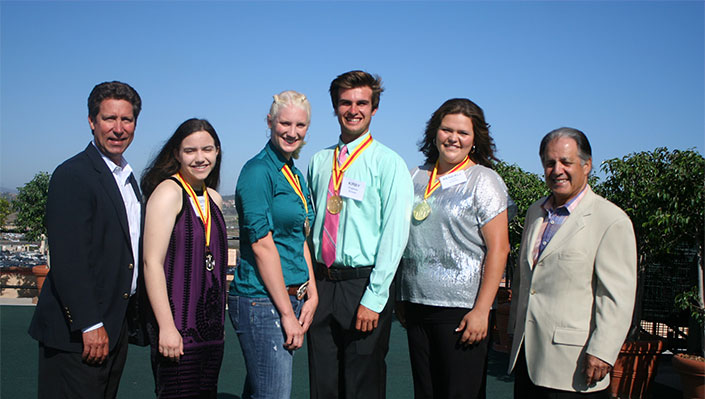 FOR IMMEDIATE RELEASE — Each year the Don Diego Scholarship Foundation awards four $5,000 college scholarships to deserving seniors in San Diego County. All winners must have participated in the Del Mar Fairgrounds in some way. After a competitive application and interview process, the Don Diego Board Members interviewed qualified candidates on May 10, 2012 and selected the following recipients:
This year's 4-H scholarship was given to RaeAnne vanTol, who resides in Ramona and attends Mountain Valley Academy. She will attend Cal Polytechnic State University in San Luis Obispo in the fall and will major in Animal Science. RaeAnne has exhibited swine, veal, dairy cattle and sewing projects at the San Diego County Fair as well as the Ramona Jr. Fair. "Through my 4-H experience, I have grown in qualities such as responsibility, leadership, hard work and citizenship by raising livestock projects, working as a Fair steering committee member and interaction with fellow peers and my community," she said. RaeAnne is also involved in basketball, swimming, art and drama.
This year's FFA scholarship was awarded to Kendall Lynch, who resides in Lakeside and attends El Capitan High School. She will also attend Cal Polytechnic State and major in Animal Science. Kendall has been involved with FFA projects all four years of high school and raised five market hogs, one market lamb and has farmed 50 acres of oat hay for the past three years. This year Kendall will exhibit two market hogs at the San Diego County Fair. In addition to raising livestock and farming, Kendall has been extremely active in her FFA Chapter attending numerous events and competitions including the Advanced Leadership Academy, State Leadership Conference, National Convention ad many more. "My FFA experience has been the absolute best thing that has ever happened to me. It's taught me so much about hard work, responsibility, leadership, friendship and dedication," she said.
The Employee scholar for 2012 is Kirby Challman of Point Loma High School. Kirby will attend Point Loma Nazarene in the fall majoring in Political Science. For two years Kirby worked at the San Diego County Fair as a groundskeeper and an Ambassador at the O'Brien Gate- greeting and helping guests into the Fair! Kirby is Vice President of his class and has been on the Principle's Honor Roll, varsity baseball and worked on the production of "Grease." "Through the San Diego County Fair I was able to realize the impact I could have on others. The Fair allowed me to find my niche when it came to finding my true potential," he said. Kirby has a heart for others and when he is not serving them at the Fair, he is very involved at his school working with Student2Student, working with new students that arrive mid-year to his high school.
The Exhibitor scholarship has been awarded to 16-year-old Meredith Lehmann from La Jolla High School. Meredith will be attending Stanford University in the fall majoring in physics or classics. Meredith entered two horse sculptures into Student Showcase where she received first place with both. Extremely talented in the arts, Meredith also sings, plays the cello, acts and sculpts. "The joy and the wonder of the success of my first exhibition at the San Diego County Fair was more than enough to motivate me to work as diligently as I could to shape another and different sculpture for the following year's competition. Both horses have been displayed on my piano ever since," she said. Meredith is extremely involved outside of her upper level academic classes and arts, interning more than 20 hours a week for bioinformatics at the J. Craig Venter Institute. She has also participated in music benefit performances, orchestras, and volunteered numerous hours for the Greater San Diego Science and Engineering Fair, Student Advisory Council, and at the Joan B. Kroc Peace Institute for Peace and Justice.
The scholarship winners will be recognized at an annual gala occurring at the Del Mar Fairgrounds Turf Club on June 28, 2012. The event is open to the public and tickets and table sponsorship can be purchased at www.dondiegoscholarshipfoundation.org or call (858) 792-4210. The evening will commence with a cocktail hour and silent auction, including wine tasting with Alysha Stehly of Vesper Vineyards, a 2003 scholarship recipient. During this time guests will also be able to meet the scholars followed by fine dining and a concert by Creedence Clearwater Revisted.
The Don Diego Fund has awarded more than $575,000 in college scholarships and grants for agricultural education since 1985. The Don Diego Scholarship was named after Tom Hernandez, who served as the Fair's goodwill ambassador from 1947-1984. The scholarship supports those students who are ambassadors for the county, academically and through their achievements. Funds are raised through the annual gala, the Amigo club and donations. For more information or to make a donation, please visit our Web site at www.dondiegoscholarshipfoundation.org.