5/12/14

Del Mar, CA …      A "Baker's Dozen" of 13 exceptional high school seniors from throughout San Diego County will embark on their college studies at prestigious universities around the country supported by sizable scholarships from the Don Diego Scholarship Foundation. The Foundation is the nonprofit arm of the San Diego County Fair. In 2014, the Foundation more than tripled the number of scholarships and increased total funding from $25,000 to $40,000.
The recipients will be feted at Don Diego's July 1, 2014 Huey Lewis and the News Dinner/Concert Gala. Tickets can be purchased at dondiegoscholarship.org or by emailing info@dondiegosf.org.
Don Diego Chair Paul Ecke III, who helmed the selection committee, states, "We feel confident all recipients will be great ambassadors for our region, continue to excel academically and forge productive careers that give back to the community. It's impossible not to be amazed and uplifted by these students' passion, idealism, accomplishments and potential."
Scholarships of $5,000, $2,500 and $1,000 were awarded in four categories: 4H, FFA, Fairgrounds Employee and Fairgrounds Exhibitor. The $5,000 recipient deemed most outstanding also received a $5,000 Spanjian Scholarship, for a total $10,000 award.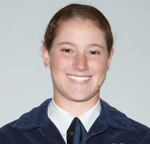 That $10,000 award went to Julian resident Carolyn Kravitz, who as Valedictorian graduates first in her Mountain Empire High School class with a 4.28 GPA. Saying, "I was completely overwhelmed to learn I had received two awards," Carolyn intends to major in Molecular Biology/Genetics at Stanford. She is a dedicated horsewoman who even enjoys the nitty gritty details of care, including deworming. When not at the barn or riding, Carolyn serves as a youth camp volunteer, participates in cross-country and theatre, and plans to "earn a PhD and become a researcher at the corner of animal genetics and disease."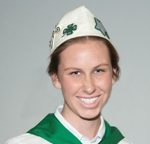 Graduating fourth in her Valley Center High School class of 282 with a 4.35 GPA, 4H $5,000 recipient Victoria Laird of Valley Center has been accepted to so many universities that she is still mulling her options. Beginning as a "skinny little fifth-grader with an uncommon love for chickens," Victoria says her Fair experience has enabled her to "grow proficient in knowledge of poultry and showmanship, expand my horizons and discover how to succeed by following my passion." Valley Center teacher Thomas Buck believes, "Victoria will make an outstanding contribution."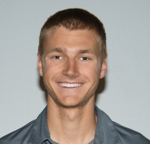 With a 4.41 GPA and a strong work ethic, Encinitan Aaron Steger impressed AP teachers and basketball coaches at San Dieguito Academy. This thoughtful young adult says he has been transformed by his summer job at a Fair concessionaire. After working closely with immigrants, Aaron confides, "I re-evaluated my thinking, left old stereotypes behind and became a dedicated believer that people should withhold judgment until they experience various sides of an issue first-hand." Aaron will use his $5,000 Fair Employee scholarship to study Chemical Engineering at UC Berkeley.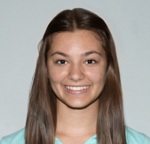 Nikolina Zenovic, who was awarded the $5,000 Fair Exhibitor scholarship, graduates from University City High School as ASB president with a 4.64 GPA and a relentless drive to "help cultures interact with one another. I want to make a lasting impact by majoring in Anthropology, then earning a law degree and helping people with the backing of the U.S. justice system." A first-generation American whose parents fled the Balkans to escape war, Nikolina is dedicated to improving herself through dance, art and tennis, and enhancing the lives of others, especially students with special needs.
Winning $2,500 scholarships are:
Rachel Brown, 4H, Ramona High School, Animal Science, Cal Poly San Luis Obispo.
Jamie McKinley, FFA, Escondido High School, Veterinary Medicine, Colorado State University.
Gregory Brice, Fair Employee, San Dieguito Academy, Economics/Business, UC Santa Cruz.
Noa Glaser, Fair Exhibitor, Torrey Pines High School, Computer Science/Electrical Engineering, Stanford.
Winning $1,000 scholarships are:
Bryeson Rowell, 4H, Oaks Academy, Pre-Med, Cal State San Marcos.
Madeline Muhr, 4H, Poway High School, Major TBD, Northern Arizona University.
Ashley Therien, FFA, San Marcos High School, Agricultural Science, Cal Poly San Luis Obispo.
Eliza Naimi, Fair Employee, San Dieguito Academy, Film/TV Production, Long Beach State.
Emily Dorsey, Fair Exhibitor, Francis Parker School, Physics, Harvey Mudd College.                                                                                                       
Don Diego Executive Director Chana Mannen reports, "2014 was an ideal year in which to expand our scholarship program. We received a bumper crop of applications from deserving students who, with the rising cost of college education, need, value and appreciate the support of donors who believe in their bright futures. Whether our recipients showcased robotics, served up food, showed their animals or danced their way to a Don Diego scholarship, they demonstrated their desire to work hard, do well for themselves and do good for the world. We look forward to the Gala, where we will be delighted to present the Don Diego Class of 2014!"
The Don Diego Scholarship Foundation was named for Don Diego, AKA Tom Hernandez, who served as the Fair's welcoming goodwill ambassador from 1947-1984. The Foundation has awarded more than $640,000 in college scholarships and grants for agricultural education since its inception in1986. It invites people to make an investment that will pay dividends for students and the entire region. More information on programs and donation opportunities is at dondiegoscholarship.org and www.facebook.com/DonDiegoScholarship.